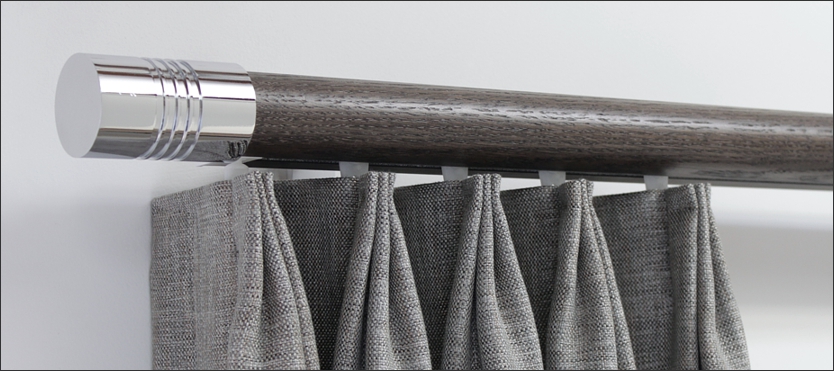 Element Traverse Rod by Urban Decors is sleek, clean and sophisticated. A versatile traverse rod able to enhance your windows in any room setting weather it be modern, contemporary or traditional. Traverse rod can be ordered for pinched pleated or ripplefold draperies. Element traverse rod is shipped pre-assembled for quick installation and use.
Return Policy: Non-Returnable due to the fact that this is a custom made-to-order product.
Specs:
1.5" Wood Fascia
Select 1.5" Wood Fascia or Select 2" Wood Fascia
Endcap/finials finish - chrome
3.5" projection brackets
Endcaps, carriers and brackets included in prices.
Traverse rod fascia - oak - stained + satin lacquer finish.
Surcharge and Options:
Wands are sold separately
Ripple Fold snap tape
6" Adjustable projection brackets available
Double Mount Traverse Rod Set available with back track, hand or cord draw, as "track only"
Mitered cuts for bay and corner windows
Lead Time:
Traverse rods lead time is 14-21 business days
* Using FedEx Ground services, we can ship packages up to 96" in length [outside package dimension].
* FedEx Express packages up to 119" in length while 120" and over Fedex Freigth